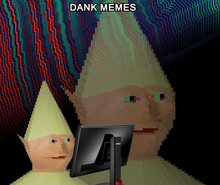 Dank is a phrase often used by many users in both in chat and comments. As said by its summary "Dank is an ironic expression used to mock online viral media and in-jokes that are intentionally bizarre or have exhausted their comedic value to the point of being trite or cliché. In this context, the word "dank," originally coined as a term for high quality marijuana, is satirically used as a synonym for "cool."
Ad blocker interference detected!
Wikia is a free-to-use site that makes money from advertising. We have a modified experience for viewers using ad blockers

Wikia is not accessible if you've made further modifications. Remove the custom ad blocker rule(s) and the page will load as expected.