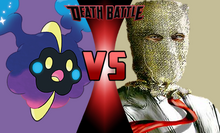 Nebby vs Bagman originated as a fanmade DEATH BATTLE created by the user known as 5555thExplosionMage on January 3rd 2017. The meme became a thing on that same date when 5555thExplosionMage posted the battle into the chat saying it was the only good battle on the wiki. They were then banned by RoaringRexe for "Being a jerk to fat people". Twice. Whenever 5555thExplosionMage posts it into the chat saying that is the only good fight they are of course banned for "Being a jerk to fat people".
Trivia
The description is as follows:

NEBBY GET IN THE GODAMN BAG
Ad blocker interference detected!
Wikia is a free-to-use site that makes money from advertising. We have a modified experience for viewers using ad blockers

Wikia is not accessible if you've made further modifications. Remove the custom ad blocker rule(s) and the page will load as expected.